What is PWA ?
A progressive web app (PWA), is a website that looks and behaves as if it is a mobile app. PWAs are built to take advantage of native mobile device features, without requiring the user to visit an app store.
Now let's look at the Top 10 Best Examples of PWAs:
Facebook PWA
Forbes PWA
Pinterest PWA
AliExpress PWA
Flipkart PWA
Telegram PWA
Google Maps Go PWA
Uber PWA
Trivago PWA
Tinder PWA
1. Facebook PWA
Facebook is the The Biggest Social Media conglomerate in the world. They own major platforms like Instagram, Whatsapp etc. Facebook started testing of it's PWA in 2018, when PWA was becoming a buzz word. They have a major part in the PWA revolution.
The PWA version of Facebook helped millions of people to use their platforms with slower internet connections across the globe.
2. FORBES PWA
Forbes is an American business magazine. Published bi-weekly, it features original articles on finance, industry, investing, and marketing topics.
With the increasing amount of mobile users, Forbes saw a huge potential when launching their own PWA in 2017. With super-fast page loads, push-notifications, instant transitions, and light design, Forbes managed to increase user engagement and increased conversions.
3. Pinterest PWA
Pinterest is an American image sharing and social media service. It is the most used website when we look for creative ideas.
Pinterest's old mobile web experience was a ancient — it included large bundles of CPU-heavy JavaScript.
Now Pinterest's PWA is a fast and data-friendly solution for users, offering low bandwidth usage, push notifications, and offline support.
4. AliExpress PWA
AliExpress is a world famous e-commerce business where you can find nearly everything from clothing, accessories, electronics, pet products to home appliances.
AliExpress saw a drastic increase in the time spent by users on their site. The numbers speak for themselves.
104% conversion rate for new users across all browsers
82% increase in iOS conversion rate
2X more pages visited per session per user across all browsers
74% increase in time spent per session across all browsers
5. Flipkart PWA
Flipkart is India's largeste-commerce company, competing with Amazon. Flipkart decided to combine their web presence and native app into a Progressive Web Application that has resulted in a 70% increase in conversions.
The use of PWA has made a drastic change.
Users time on site with Flipkart lite vs. previous mobile experience: 3.5 minutes vs 70 seconds.
3x more time spent on site
40% higher re-engagement rate
70% greater conversion rate among those arriving via Add to Homescreen
3x lower data usage
6. Telegram PWA
Telegram is another among the most popular web apps. It's actually a popular mobile chat service.
Telegram's progressive web app has an open API which makes it faster and responsive for both Android and iOS devices.
7. Google Maps Go PWA
Google Maps Go is the lightweight Progressive Web App version of the original Google Maps app. It provides everything that a native google map app provides but with less data and memory usage.
Google Maps Go is separate from the Google Maps app. It's designed to run quickly and smoothly on devices with limited memory.
8. Uber PWA
Uber, a multinational ride-sharing app expanded to new markets, the company realized the potential of enabling all users to quickly request a ride, regardless of location, network speed, and device. With this in mind, Uber rebuilt their web app from the ground up as a viable alternative to the native mobile app in many parts of the world.
The company made sure to make their PWA lightweight — the core ride request app comes in at just 50kB, enabling the app to load quickly even on slower networks.
9.Trivago PWA
This hotel booking app helps users choose the best hotel stay and service suiting their interests and budget. Trivago has a free app for both Android and iOS. Along with the hotel search, the app includes interactive push notifications and the accommodation details.
Trivago's PWA with multilanguage support is available to users over 55 countries. The app comprises of native features including speed , offline mode, and push notification.
10. Tinder PWA
With 30 billion matches to date, Tinder is the world's most popular app for meeting new people.
Their responsive Progressive Web App — Tinder Online — is available to 100% of users on desktop and mobile, with techniques for JavaScript performance optimization, Service Workers for network resilience and Push Notifications for chat engagements.
These are some top examples of PWAs. There are 100s of examples of PWAs out there.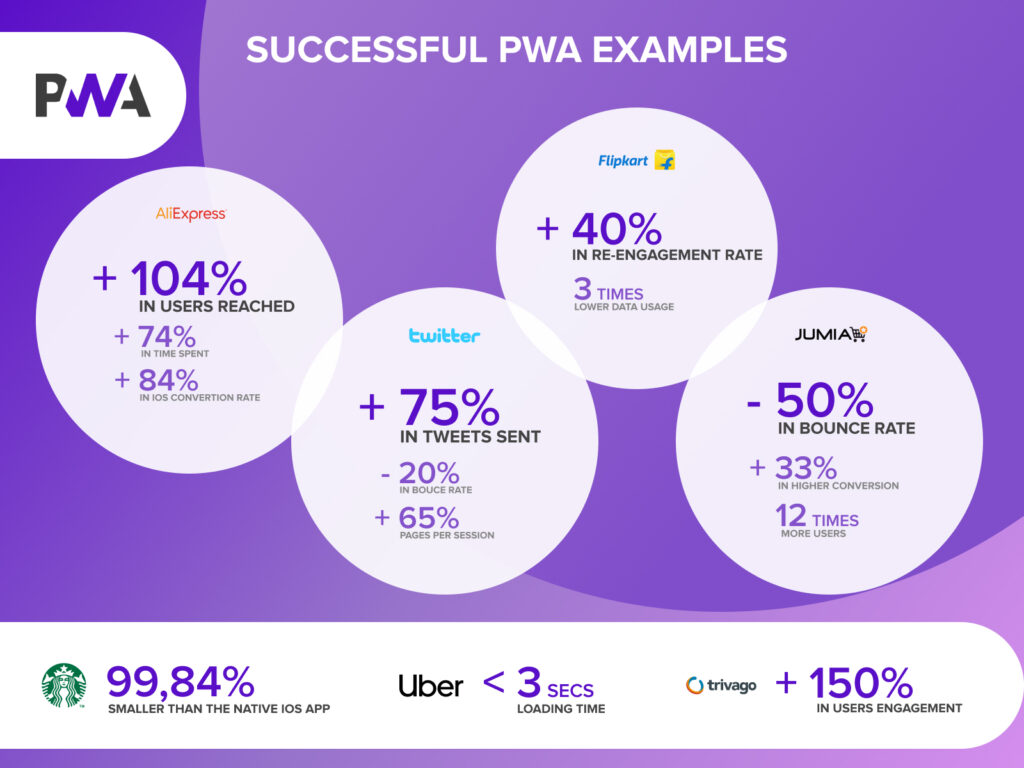 However, being industry leaders of App building, Appmaker has come out with a unique solution, where one can easily convert PWA's to Android app, which is Playstore ready.
You can read more about the tool on XDA Developers blog or on Android Authority; Or you can create Android app for your PWA straight from here