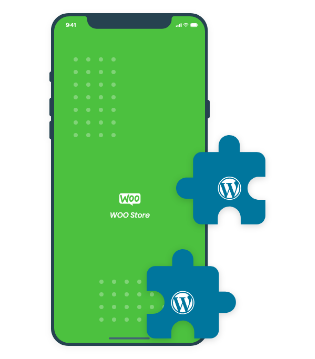 WordPress Plugins Support
Here is a list of Plugins supported on the WooCommerce Mobile App provided by us
WooCommerce Plugins for Shipping
WooCommerce Payment Gateway
The WooCommerce Bambora (formerly Beanstream) extension provides a completely integrated checkout experience between WooCommerce and Bambora.

WooCommerce Multilingual
Polylang allows you to create a bilingual or multilingual WordPress site.
With WPML you can translate pages, posts, custom types, taxonomy, menus, and even the theme's texts.
Points and Rewards for WooCommerce
Reward your customers for purchases and other actions with points which can be redeemed for discounts. Easily set how many points customers should earn for each dollar spent and set how many points can be redeemed for a specific discount amount. Points can be set at the product, category, or global level, and you can also control the maximum discount available when redeeming points.
With YITH WooCommerce Points and Rewards you can start a rewarding program with points to gain your customers' loyalty. Your customers will be able to use their points to get discounts. It's a perfect marketing strategy for your store. Get more plugins for your e-commerce shop on YITH.

Product and order related WooCommerce plugins
Whether we like to admit it or not, we are all influenced by brands. Brands are a guarantee for quality, they assure product recognition in customers. Is essential to work with product brands to increase sales and generate reliability on your e-commerce site. With this extension, you can add product brands to your WooCommerce site.
WooCommerce Waitlist lets you track demand for out-of-stock items, ensuring your customers feel informed, and therefore more likely to buy. Sends email as soon as the product arrives in stock.

This plugin helps admin to add some additional fee to Woocommerce cart. You can add your custom amount and label for the fee to be added in cart. Also can add tax and change tax class if you want. It also provides a feature to apply custom fee only if the cart total is greater then minimum amount set.

Adds a simple Minimum Order Amount to Woocommerce.
Vendors

Create your marketplace and allow vendors to sell just like Etsy, Envato, eBay, or Amazon type sites! This allows other sellers/vendors to sell tangible products, virtual products, or downloads on your site. With this plugin, your vendors receive commissions you set on products they sell from your store.
Bulk variations

WooCommerce Bulk Variation Forms allows your users to add multiple variations of a product to their cart from single form. <br> Easily configure products which have two variation attributes for bulk input. The bulk form will simplify the ordering process for wholesales, business to business sites, or any user who would like to order multiple variations of the same product at the same time. Shoppers always appreciate having a simple and efficient way to order products from your shop. Bulk Variation Forms makes it easy and convenient for them to order everything they need to quickly.
Checkout

Woocommerce Easy Checkout Field Editor Plugin lets you add /edit / Delete fields in the checkout form. You can reorder them using our drag and drop Admin UI. This Plugin Supports 11 types of widely used custom fields. You can opt to send custom field data with order E-Mail and also display it on the admin order page.
Green Circle Technology's electronic invoice plug-in kit provides cooperation between the store and individual members when using the open source store system. It does not need to handle complicated check-ups directly. By installing the plug-in kit directly, you can connect Green Technology with a faster way. Electronic invoicing system.

Other

This is a WooCommerce add-on. Using this plugin admin and buyer can get notifications about their order via SMS using SMS Alert. <br> The WooCommerce Order SMS Notification plugin for WordPress is very useful when you want to get notified via SMS after placing an order. Buyer and seller both can get SMS notification after an order is placed. SMS notification options can be customized in the admin panel very easily.
Digits let your user signup on your website simply with their mobile number. No more checking emails. Just SMS In this fast world, no one has time to SignUp on your website using traditional email, because this is not the single step involved, user has to log into the email account – open email – click on the verification link to verify the email and then he/she gets access to the account on your website. And then comes the passwords, even if he manages to do that all the most important thing to remember to gain access to the account is password. Now if he/she forgets it again the user has to go through all the pain he went while signing up. Just because of all these things nowadays websites are losing their customers as no one has time for all these things.