How to enable customer support for your app?
Updated on February 27, 2019, In Category:
Chat
.
Customer service plays a big role in building trust in business. If you are serious about building your business empire, understanding your customer is required.
Customers are the most important metric of your business. Retaining a customer is a lot simpler than customer acquisition. The intentions are clear by saying that, solving customers issues reduces the major problems faced in business.
Providing excellent business strengthen your brand value and it helps you retain the customers.
Appmaker offers great customer support services. You can grow your business by solving your customer's issues and by collecting their valuable feedback.

Zopim Chat:
Zopim chat is a platform where you can have a live chat with the customers. All you have to do is create an account in Zopim chat and you can enable it in your app.
Chat with multiple persons at a time and you can engage your customers by assisting them throughout. It is said that with a live chat support, the conversion rate increases by 25%.
How to enable Zopim chat for your app?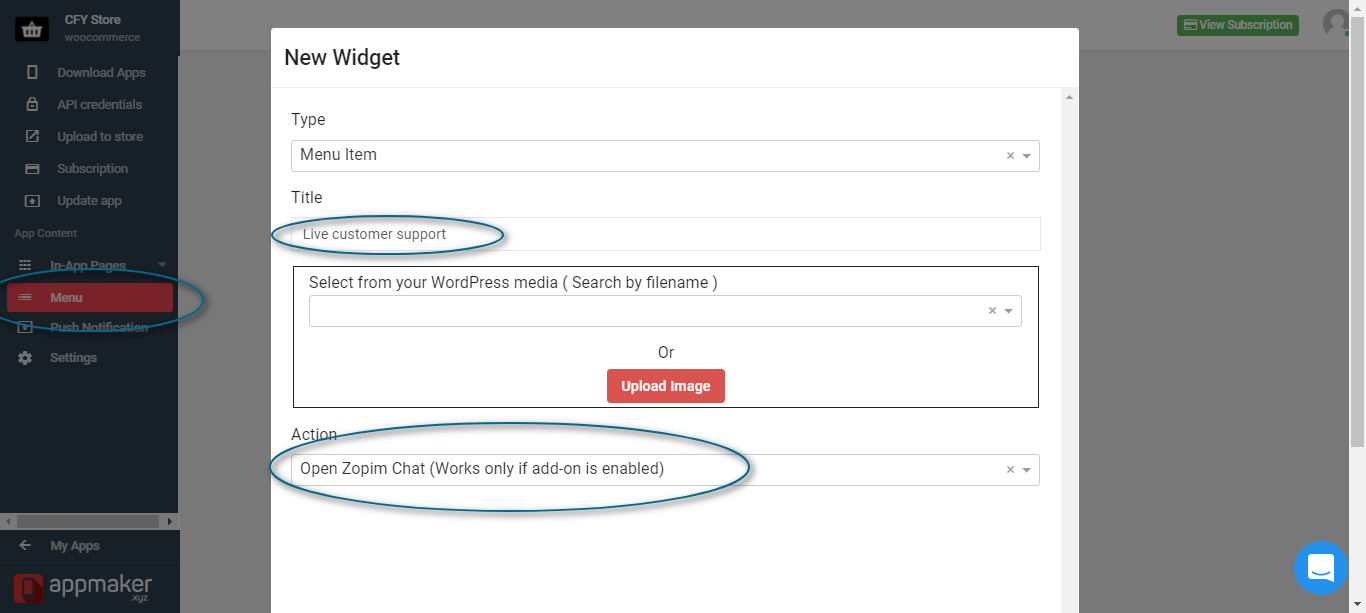 Log in to manage.appmaker.xyz account and click 'manage' button. 
Select 'Update App' which you can see on the sidebar of the dashboard.
Click on the 'Add-Ons' and as you scroll down you can see ' Enable Zopim Chat' switch. As said above this feature can be enabled only after creating a Zopim chat account. The next step is to add a Zopim key
After enabling Zopim chat, you can either add it as a widget in the In-App pages or as an element in the menu.
Set action as 'Open Zopim Chat' and save changes.