Which button can be hidden? How is it done?
Purpose of creating apps varies from business to business. Some people would want their app to be with minimal contents. At some point it makes the app users feel less complicated. It's up to you to decide how you want your app to look.
While creating an app for your Woocommerce website with appmaker, you can enjoy such benefits. You get to choose what all options should be shown and hidden in your app.
The things that you could hide in your app are
Login
Price
Cart
Wishlist
Sort
Prompt login
To activate the hide button follow the below steps:
Log in to manage.appmaker.xyz and click manage button.
Goto 'update app' which can be viewed in the sidebar.
Select 'Setting'.
Here you can hide or show the above-mentioned buttons on your App.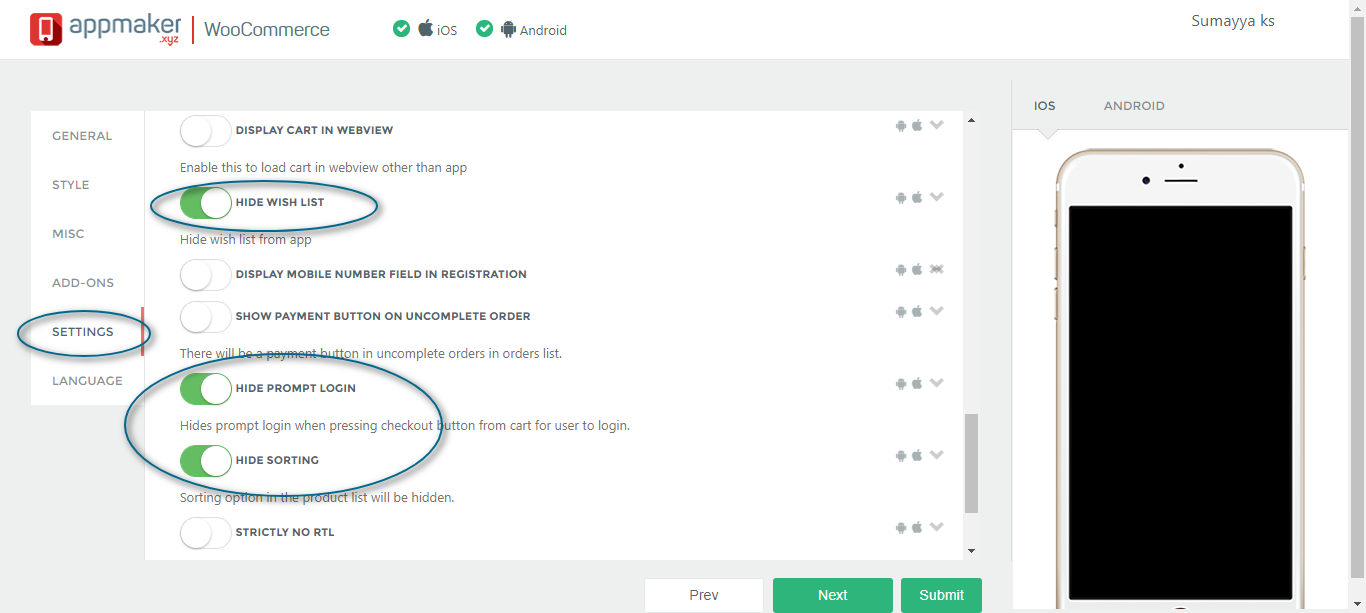 Hide Login: Switching on this button will disable login and registration in your app for users. App users will no longer need to register and login to access your E-Commerce App. You can switch back anytime if you want to.
Hide Price: The price of the product will not be displayed when a user clicks the product. You can use this option if you don't want to display the price of the products.
Hide Cart: Switch this button ON if you want to hide the cart option in your app to be hidden. This option removes the cart from the In-app page. The products that are added to the cart will be listed out only if a user clicks 'Buy now' button.
Hide Wishlist: You can either add or remove wishlist from your app. He wishlist icon will not be displayed if you use this option and a wish list cannot be created for the end-users.
Hide prompt login: Users get easily annoyed of prompt login. You can avoid having a prompt log in while checking out by using this option wisely.
Hide Sorting: Sorting option can be disabled using this switch. Sorting will not be displayed in the app. You could switch back whenever necessary.

You can switch back from this option whenever required. The changes will be reflected in the app after the user updates the app.