How to publish iOS apps in AppStore?
APPLE DEVELOPER ACCOUNT
Ignore this step if you already have an Apple Developer account. To publish iOS apps on App Store, you'll need to create a Apple Developer account. You need Apple ID to access all Apple services. If you dont have one , create now:
Goto https://appleid.apple.com/#!&page=create to create Apple ID.
Fill up all necessary information.
Click continue.
Verify email address by entering verification code send to your mail.
REGISTER FOR DEVELOPER ACCOUNT
Enrolling in Apple developer program requires you to pay Apple an annual fee of $99. Activation may take up to 2 business days.
Goto https://developer.apple.com/register and log with your Apple ID.
Accept Apple Developer Agreement.
Click submit button.
Click on Programs & Add-Ons tab.


5.Click on Enroll now button to enroll as an Apple Developer to submit apps to the App Store.
6.Click on Start Your Enrollment button.
7.Fill up all necessary information.
8.Complete purchase by clicking purchase button.
BEFORE SUBMISSION
For complete app submission, you require some assets other than IPA file. Be ready with all requirement as follows:
Application IconsiTunes Artwork: 1024px x 1024px.iPad/iPad Mini: 72px x 72px and 114px x 114px.iPhone/iPod Touch: 57px x 57px and 114px x 114px.
At least one screenshot.
MetadataApp name (Max 255 characters).Version number.A description.Keywords.Support URLDemo login(only required if there is user login in app)
CREATE APPLICATION IN ITUNES CONNECT
Sign in with you Apple Developer Account.
Click on My Apps.
Click on + button and select New App.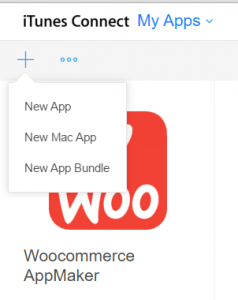 Check iOS app, fill up App name and choose Primary language.
Enter Bundle ID, its the package name you provided while creating the app (Registered App ID).
Enter SKU (A unique ID for your app).
Click create.
Your app is now created in iTunes Connect. Before you fill up further details, upload your IPA file. For this, you need a Mac computer with XCode installed in it.
Follow the steps to upload as given below:
Open XCode.
Click Xcode menu on top right.
Click Open Developer Tools and select Application Loader.
Sign in with Apple ID and click next.
Click Deliver Your App.
Select the .ipa file to upload and click open.
Click Next.
Wait till upload complete and green check mark to appear.
Click Done.
Now uploading is complete.
Go back to itunes Connect.Select Prepare for Submission tab.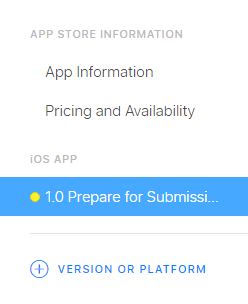 Fill up all the necessary details. You will need to upload screenshots.
Select the Build version you uploaded from the Build section.


Click submit for review.
This video will help you guide you in uploading the app.